Lando Norris F1, Artist Signed Art Prints
Lando Norris, McLaren F1 Driver, Fine Art Prints.
I am a huge fan of Formula One and have been for many years. The thrill, excitement and strategy, mixed with colour and speed in the uultimate driving machines are perhaps part of the draw. Whilst like many, I have my favourite drivers to watch and cheer to victory, I have enjoyed watching many of the drivers over the years each with their own unique style.
I plan on creating a few original drawings over the coming months of several F1 race drivers. It's hard to choose who to draw next - there are many greats and fan favourites. There are a couple of current racing drivers who have moved team as we enter the 2021 race calendar who I am keen to create an art print for under their new team colours - Daniel Riccardo and Sebastian Vettel are two.
Lando Norris is part of the new, younger driver line-up - a young and promising driver for McLaren - a well known, admired and popular team. His driving skill, radio chatter and off track fun make him already a fan favourite.
Limited Edition - only 10 Prints available.
Each print is 16 x 12" (30 x 40cm (approx).
Artist signed and numbered.
Professionally printed Giclée print onto 380gms Hahnemuhle Art paper.
FREE UK Delivery (Prints only).FREE UK Delivery of Print only.
Framed Prints available. Please contact me for options and costs.
Print only: £37 each.
You can Buy Online now through my Esty shop.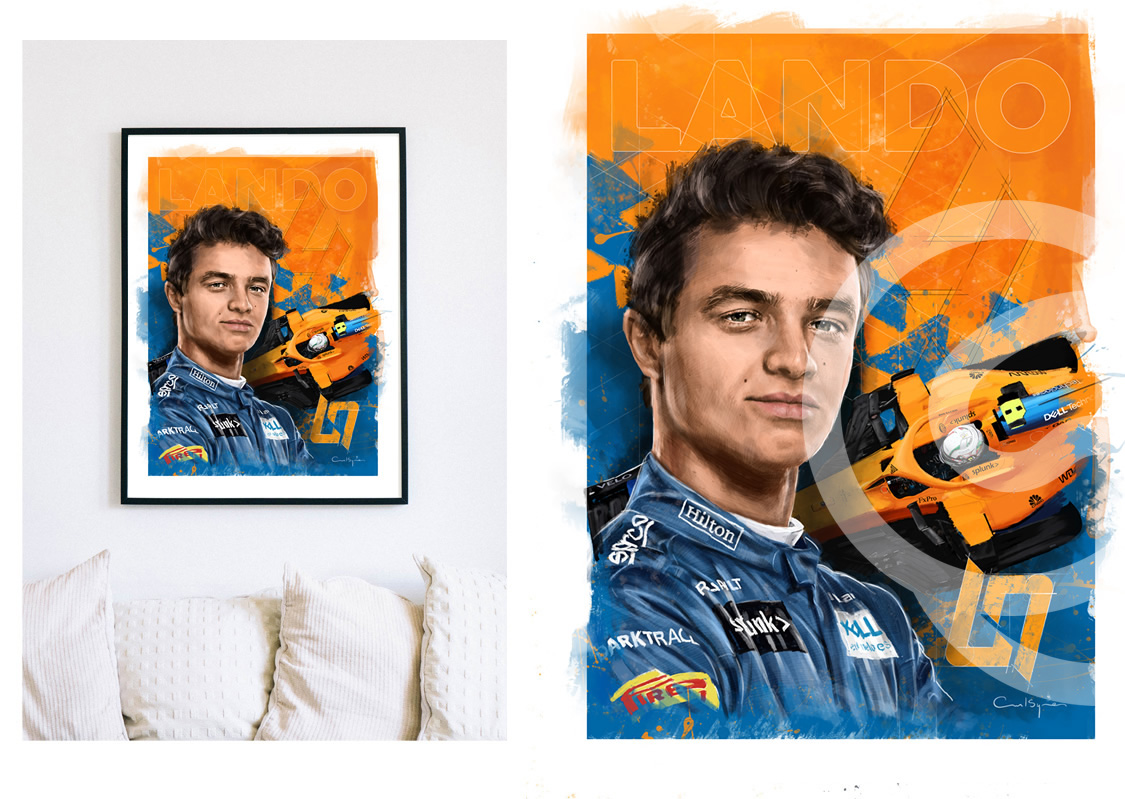 Click to view others in the series:
Racedrivers:
Lance Stroll
Sebastian Vettel
Carlos Sainz Jr
Lando Norris
Lewis Hamilton
Max Verstappen
George Russell
Charles LeClerc
Ex drivers and others:
Murray Walker
Hunt v Lauda
Kimi Raikkonen